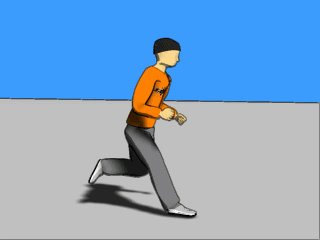 The
Speed Vault
is a
Beginners Vault
.
The Speed Vault is used for a quick obstacle jump over that should maintain the speed you used to approach the obstacle.
This is probably the simplest Vault out of every vault. A running start is not necessary; you could even do this vault walking.
You'll need an obstacle not too high, about waist level, and a running start if you want. Head towards the obstacle and jump when you are a few feet away. as you are in the air, twist your body 45 degrees.(see picture) when you are above the obstacle, place your hand that's closest to it on top and push off. You should land on the same foot you took off with as this allows you to maintain speed. Landing on the opposite takeoff off foot can cause a decrease in speed and make you stagger.
**NOTE** FEET NEVER COME INTO CONTACT WITH THE OBSTACLE AND YOUR ONE HAND STAYS ON IT THROUGH OUT THE ENTIRE VAULT **NOTE**
Ad blocker interference detected!
Wikia is a free-to-use site that makes money from advertising. We have a modified experience for viewers using ad blockers

Wikia is not accessible if you've made further modifications. Remove the custom ad blocker rule(s) and the page will load as expected.