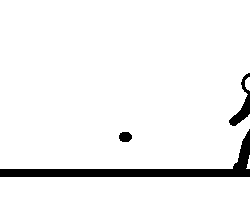 The
Monkey Vault
is a
Beginners Vault
.
Approach an obstacle about waist height and place both hands flat on top. You may add a small hop before, if it helps. After placing both hands flat on top of your waist high obstacle. Hop up as high as you can and tuck your Knees to about Chest High and bring yourself over.
The main problem with this Vault is people having a fear of cliping their toes and falling face first. Practice on lower obstacles about thigh high. Once you feel comfortable enough to move up it should come easy and natural to you.

**NOTE** YOUR LEGS SHOULD NOT COME IN CONTACT WITH YOUR OBSTACLES AT ANY POINT IN THE MONKEY VAULT. IF THEY DO, TUCK HIGHER, JUMPER HIGHER, OR PRACTICE ON A LOWER OBSTACLE **NOTE**
Ad blocker interference detected!
Wikia is a free-to-use site that makes money from advertising. We have a modified experience for viewers using ad blockers

Wikia is not accessible if you've made further modifications. Remove the custom ad blocker rule(s) and the page will load as expected.